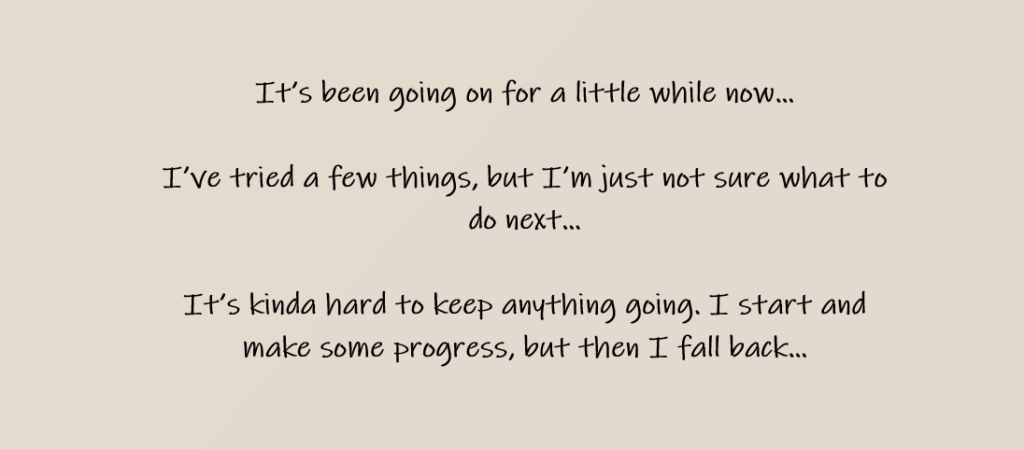 How do I know if I should seek psychotherapy?
Life's journey often leads us through challenges and obstacles. We may wonder whether we can handle problems on our own or whether the best approach is to bring in a professional. As a psychologist, I often get asked the question by potential clients – "Do I need therapy?" It's a great question and there are ways to decide the right choice for you. The decision to seek therapy can be both daunting and scary. Your time and expense are weighed against the likelihood of a rapid and effective solution. And the thought of trusting someone we don't know and focusing on our most vexing problems can cause us to hesitate.
But there comes a time when the best – or the only – effective solution is to seek expert assistance. The possibility of hope, knowledgeable guidance, and personalized support for making hard changes outweigh the barriers. Since deciding whether to seek therapy is a personal and individualized decision, let's go through a few signs that suggest that it's time to turn to a psychotherapy professional:
Psychotherapy reason #1 – Your experience is overwhelming: If you are experiencing overwhelming feelings of sadness, anxiety, anger, or despair that persist for an extended period and interfere with your daily functioning, psychotherapy can be beneficial. Sometimes, we can't think clearly enough or stay stable enough to form a plan or carry it out. Professionals have resources and a wealth of information about how to approach problems like yours. The structure and guidance of psychotherapy can help organize and prioritize changes, making it possible to make a shift.
Therapy reason #2 – The problem persists: Time and patience have not resolved your concerns. You've exhausted your own resources. You've taken the advice of friends or loved ones, tried a few strategies you read on the internet and used your common sense. But the problem continues or only barely gets better. Or "waiting out" the problem seems to have made it bigger. The expertise of a professional can be the added measure that allows your energies to be well-directed.
Therapy reason #3 – You're feeling stuck or directionless: You don't even know what's wrong, but you just have the sense that things can and need to be better. A psychotherapist can help you focus on key aspects or find patterns outside your own awareness, identifying the problem clearly. Insights you gain can then be converted into a concrete plan for change.
Therapy reason #4 – You lack social support: If you feel isolated or have a limited support system, you may desire the support of someone else encouraging you, celebrating the wins and working through the setbacks with you. Therapists are typically very warm and welcoming people whose interest in and attention to you helps to lift you up and reminds you of what it's like to feel supported in your life. In addition to providing expertise and directly encouraging you, your therapist can also help you draw warm and interested people towards you and increase your social system, so you have a "deeper bench" going forward.
Therapy reason #5 – The problem requires privacy or an objective perspective: Therapy can offer a safe space to talk and receive validation and understanding from someone who doesn't have a personal stake in the outcome and who is committed to remaining neutral about the choices you make. Therapy provides a safe space to let you speak freely and sort out your thoughts and feelings. It can also become a springboard to help you assertively communicate your feelings, needs and decisions to others in your life.
Therapy reason #6 – Your loved ones repeatedly encourage you to seek expert help: You may not see or understand how the problem has grown or is impacting you or others. But when your family and friends let you know that they are also affected – or that their concern for you is strong – it can be a useful wake-up call.
Therapy reason #7 – You just don't know if you need help. Many times, clients come to therapy to determine IF the problem needs professional assistance. Therapy can offer an objective perspective about what's really needed and provide the expert resources to help you make the necessary changes. It's very reasonable to ask a professional to help you evaluate what aspects of the dilemma you can work on alone and where you'll benefit from trained guidance. If you choose to take the first step of contacting a therapist and scheduling a first session, you'll have more information and more options. Taking that one step doesn't commit you to an entire course of action, but it can allow you to make a more informed choice.
Therapy reason #8 – Your instinct is that change is needed: Even when your experience doesn't rise to the threshold of overwhelming, it can still weigh you down, make you less productive, or cause distress. Your own sense that the situation is not acceptable or healthy for you is a good indicator. Allow yourself to listen to your higher self.
Therapy reason #9 – Therapy seems worth it, but the costs feel unmanageable. Did you know that psychotherapy costs are often covered by insurance? Check with local providers or your insurance company to see if there are in-network or out-of-network benefits you can access. Often therapists-in-training are able to offer their services as reduced rates. In those situations, trainees are supervised by an experienced, licensed person who also provides expertise and is held to the same confidential standards. The practice I work in purposely has a robust training program so that there are always affordable services available to those who wish them. With some looking around, you may be able to find an affordable therapist in your area.
If one or more of the items above fits your situation, it's time to reach out. Remember that seeking psychotherapy doesn't mean you're weak or incapable of handling your problems; it's a courageous step toward self-improvement and emotional well-being. It might even be a smarter choice – to take the most efficient and effective route to solution. If you're unsure, it's always a good idea to reach out to a mental health professional for an assessment to determine if therapy is suitable for your specific needs. We welcome your call!
For more info, check out these articles:
What kinds of conditions benefit from psychotherapy? https://psychcentral.com/health/signs-its-time-to-see-a-therapist
How to find a therapist – https://www.mayoclinic.org/diseases-conditions/mental-illness/in-depth/mental-health-providers/art-20045530